The Way Back Home: KS1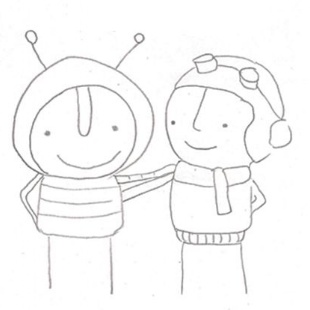 This week, in your English work, you will be reading and writing about a book by one of our favourite illustrators in art, Oliver Jeffers.
Oliver Jeffers is both the author of The Way Back Home (he wrote the words of the story) and the illustrator (he created the pictures for the story). He comes from Northern Ireland and has written many picture books which are loved by children (and the grown-ups who read with them) across the world. Here are some pictures of him demonstrating how he drew the pictures for another book, The Incredible Book-eating Boy.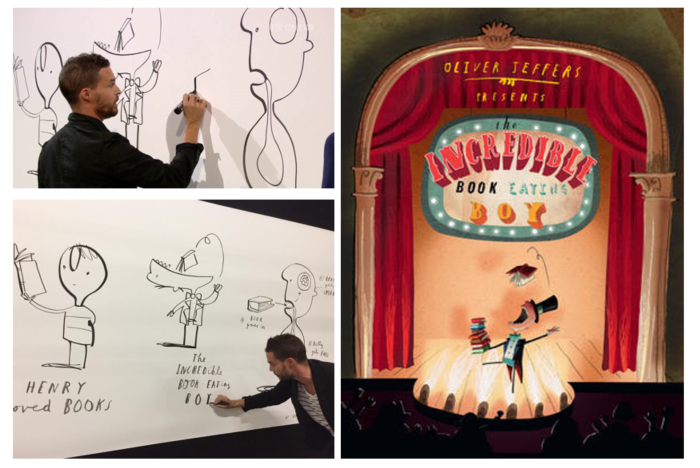 You can watch a short video about Oliver Jeffers here. You will see that he uses a small sketchbook, like the one that I showed you how to make last week, to record and develop his ideas.
You are going to start by reading the book so I won't tell you too much about what happens but it features a boy with an aeroplane and an alien with a spaceship. When we were studying Up and Down, we learned how to draw the boy. There are three things to remember to help you when you are drawing:
Look for shapes.
No Incredible Hulk pencil.
Think about scale: not too small!

The boy's head is more or less circular with a long nose like a stretched out 'J' and two small eyes a little like full stops. Here is a real 'J' with full stops either side so that you can see what I mean → . ȷ .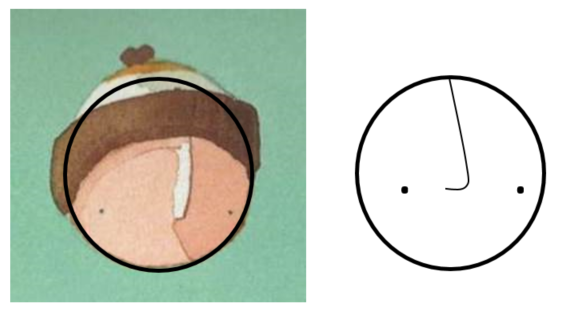 The boy can be looking up or down: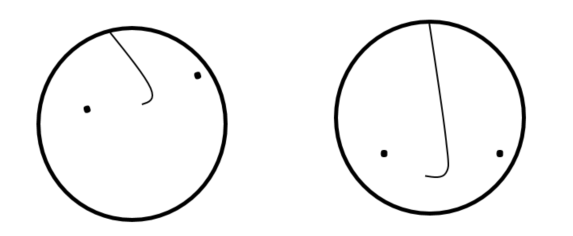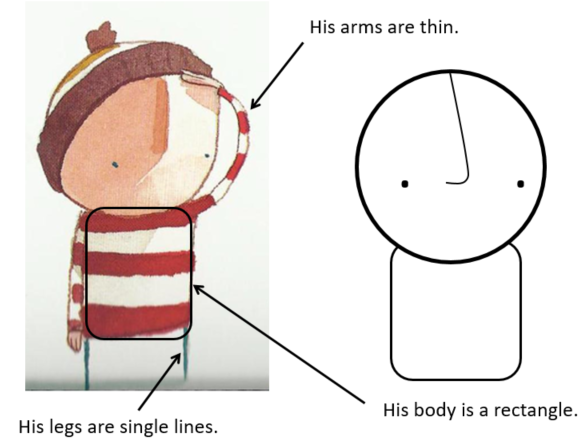 When we did this in school, you created some wonderful drawings of your own: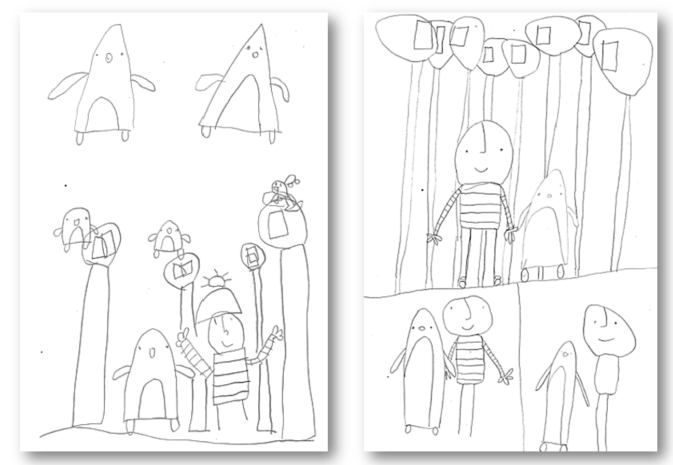 There are a few differences to consider of you are want to draw some of the scenes from The Way Back Home. When the boy sets off on his adventure, he (very sensibly) changes his clothes: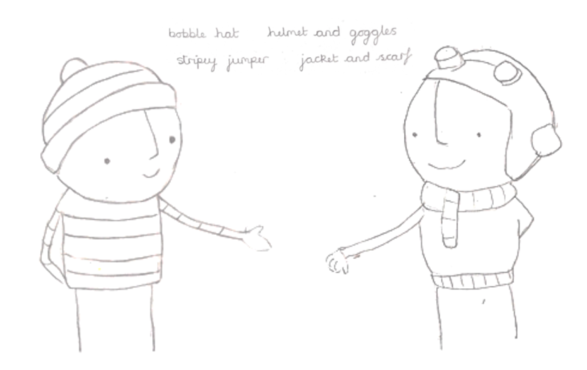 If you look carefully at the alien, you will see that, apart from being green, he is very similar to the boy, which just goes to show how much we all have in common. Again, you can think of simple shapes to help you: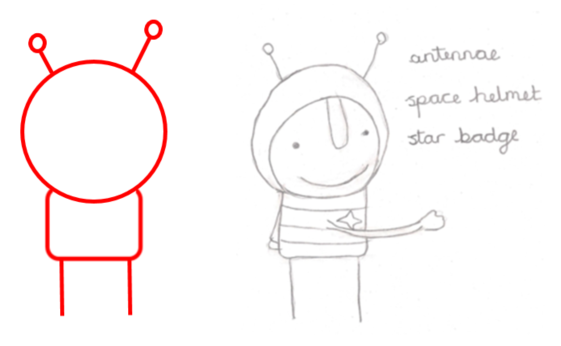 Here they are together, ready to go on an adventure:
They will need some transport! Let's draw the alien a space ship first: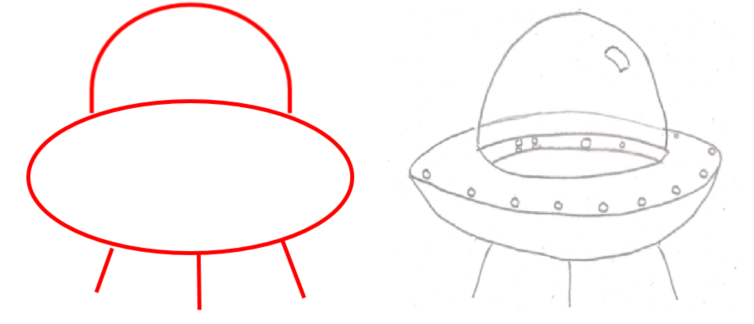 And finally, an aeroplane for the boy:

Now they are ready to explore the universe. You can decide where they go! Will they visit the Eiffel Tower or fly over Willingham? Maybe they will visit strange and wonderful planets where things are very different from Earth. Use your imagination to draw a background for your picture.
During the lockdown, Oliver Jeffers has been reading a story every week day on Instagram and you can find the videos here. If you would like another drawing project, you can see how to draw the boy's friend, the Penguin, here but this time, the instructions have been written by Oliver Jeffers himself. I hope that you have fun and would love to see how you get on!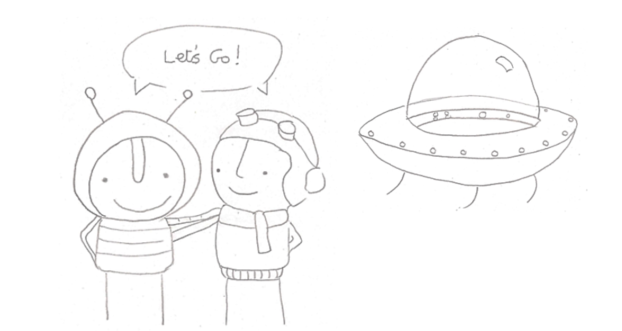 Here are some wonderful drawings done at home by Oscar and Harrison: well done to both of you!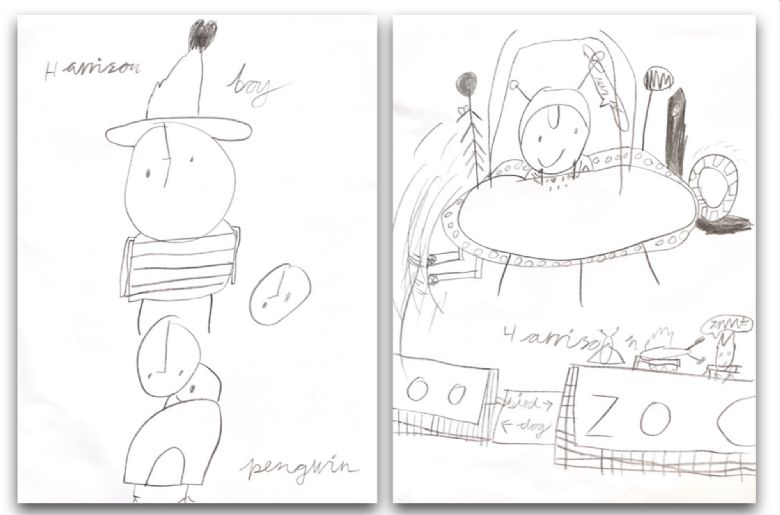 svarty@willingham.cambs.sch.uk